When asked if they would rather fly with Superman or ride in the Batmobile, he was the first to side with Henry and chose flying with Superman, which earned him a high-five.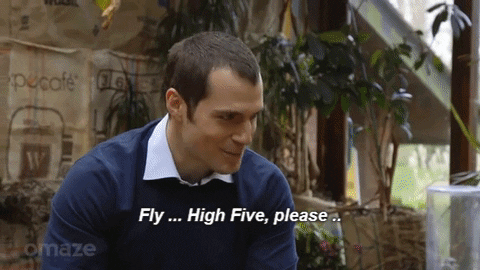 According to his mother Leana, Winter has a sister, Amélie who is 8. Her husband Rob is a huge superhero fan. She is a youth worker for a special needs youth project and she chatted with us about her son's recent experience of meeting Henry and filming at Durrell Wildlife.
How did this opportunity come about for you and your son, Winter?
My parents run both the cafes at Durrell and asked me the day before if Winter was free to help with a project for Durrell. I had no idea it was anything to do with Henry Cavill or the Batman v Superman movie! I presumed it would be about conservation and as we're huge Durrell fans, we jumped at the chance.
Can you tell us a bit about the experience of filming at Durrell with Henry?
When we arrived we were met by the crew and production team. We were given a brief about what the filming would be for, when it would be used etc. Winter loves Durrell and we go all the time so whilst we were walking to where we were going to film, he kept wanting to run off and visit the bears and the bird aviary!
Your son had a very diplomatic answer to which superhero he likes..."Batman and Superman". Is he a superhero fan at home?
He is! He actually has Spider-Man bed covers, but I shouldn't say that really! Though he has a lot of Superman and Batman t-shirts and lots of superhero action figures.
What was it like for your son to meet Henry Cavill?
Winter seemed very relaxed about the whole meeting but I was just so impressed with how natural Henry was with the children. Anyone who has children or knows any children know how unpredictable they can be, but Henry was talking to them like he'd known them for ages and didn't patronise them in any way. He had fun with them so in return they were really relaxed and chatty with him. He just seemed like a normal guy, incredibly friendly and approachable. (Eds note: Henry really has a special magic with children)
Do you think getting a high five from Henry will be a highlight for Winter?
I've been telling friends the high five will definitely gain him some 'cool points' with his friends! Especially when he's a bit older.
Being so young, does he know that Henry IS the current Superman?
To begin with I do think he did. I explained we would be talking to Superman but I think he was looking around for the man in the costume! There is a huge statue at the entrance to Durrell of Superman as Henry does so much work for the trust so I think that's who he was looking for. I explained afterwards that he was talking to THE Superman. His older sister couldn't believe it when he told her!
Has your son been on camera before?
Winter loves being in front of the camera. His sister Amélie wants to be an animator and is keen on having her own YouTube channel so always takes videos of her and Winter with the hope of putting them on YouTube one day.
Do you go to Durrell often? If so, what's your favorite exhibit?
We go all the time. At least once or twice a month. It's the most incredible place. It's not like a zoo that you might have visited before, it has species of animals that are close to extinction and they work hard to stop this from happening. Durrell do work all around the world and have contributed to the saving of species of animals in the past. We don't have lions and tigers like you might be used to, we have gorillas, orangutans, lemurs, tamarins, all manner of beautiful creatures. I just asked Winter which animal was his favourite and he said he loves all the animals but especially the orangutans and the gibbons. Ever since he was tiny would refer to Durrell as 'The Monkey Zoo!' We also always head to the reptile house to try and spot the poison dart frogs in all their beautiful colours. I love the aye-ayes and the bats personally! (Eds note: Henry called the bats "puppies with wings" in an apparent jab at Ben Affleck)
Is Mom a Henry Cavill fan? If so, when did you first discover him?
Well I was a huge Christopher Reeve fan, I used to always watch the Superman films when I was younger. When I heard that there would be a new Superman, I wasn't sure, but when I found out he was a Jersey boy, well, how could we not all love him? Jersey is only a small little Island, just 9 miles by 5 miles and we're all so incredibly proud of Henry's success. I think what's so endearing about him is that no matter how busy he is, how successful he has become, he is a Jersey boy at heart and loves his Island too.
Have you met Henry before or seen him around the Island?
I've never met him, but I have a friend Joanne who may be his biggest fan! She was able to meet him the last time he was over and it may have possibly made her year! I have seen him having lunch in the Firefly cafe at Durrell before but have never actually met him.
Is Mom going to see 'Batman V Superman' and if so, is she rooting for Superman or Batman?
Absolutely! My husband and I love a good superhero movie. I sometimes wonder who the action figure we buy are for, him or the children! And of course we'll be rooting for our Jersey boy!
* * *
Just like Henry Cavill mentioned in his video, Omaze is offering to give YOU the chance to fly in a Helicopter with Henry Cavill, take a picture with Ben Affleck, and ride in the Batmobile, and photobomb with Jesse Eisenberg at the red carpet premiere of Batman v Superman: Dawn of Justice — all while supporting 3 amazing causes. We have teamed up with Omaze and Durrell to help promote this fantastic contest and you can enter below, using the link.
ENTER: bit.ly/Premiere-BvS
Henry Cavill, Ben Affleck and Jesse Eisenberg teamed to fundraise to their charities, Durrell Wildlife Conservation Trust, Eastern Congo Initiative and the SEED Project respectively.
Good luck!